Fudge with salt "Fleur de sel"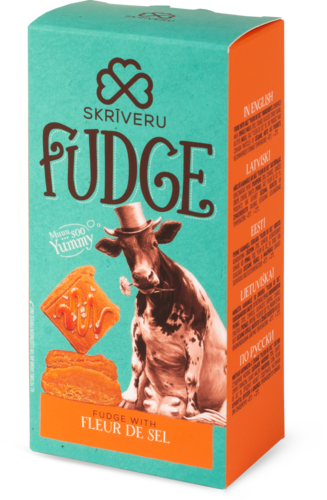 We use the best ingredients to ensure top quality: Organic cow's milk from the Latvian countryside, Fleur de sel known as an exclusive French pastry salt a.k.a. "the caviar of salt", Top quality dark Belgian chocolate, Latvian sweet cream butter.
This beautiful packaging is Red Dot winner 2019!
This packaging design for the chocolate brand Skriveru Fudge centres on the story of an eccentric Mary the Cow. The illustrations express the friendly and sincere personality of a cow sitting like a dog and holding a flower in her mouth. A sea-blue colour was chosen for the first two flavours, as this hue makes an interesting combination with the chocolate-brown logo. The packaging features a simple square box, instead of adopting a complicated shape, in order to highlight the simplicity and friendly nature of the product.